Olaplex, the brand considered the miracle for damaged or fragile hair! The revolutionary solution for those who wish to have strong, shiny strands that are surprisingly soft and, above all, healthy. Are you familiar with it? If not, we are here to tell you all about it. Read the post and discover Olaplex: professional results at home.
How did it all start?
Originally from America, more specifically California, before it reached the ears and mouths of the world, the brand was born in a garage. Where Dr. Eric Pressly and Dr. Craig Hawker, tired of dealing with damaged and brittle hair due to thermal/chemical treatments, decided to come up with a revolutionary solution, challenging the impossible (or so it was thought). After all, why should we settle for less?
Since 2014 it has conquered millions of fans around the globe, being the clear choice for celebrities, like Kim Kardashian, to make her hair the star of any red carpet. But that\'s not all! The most prestigious hair salons also proudly defend the effectiveness of the products.
But what is different about Olaplex after all?
An excellent question that will be answered in a moment. First of all, let\'s start by discussing the issues that led to the invention that changed the hair industry.
Hair is made up of hydrogen bonds and disulfide bridges. Visually it resembles a curly (twisted) staircase. It is these bonds that give hair structure, and so when subjected to aggression (namely chemical treatments, high temperatures, mechanical damage – brushing – as well as UV rays) these bonds are broken. This results in weakened, dull as well as unmanageable hair. Split ends, frizz or color fading are also induced by the disruption of disulfide bonds.
For all these reasons, the founders, developed cutting-edge technologies capable of restoring compromised hair from the inside out. The (not so) secret ingredient? Olaplex\'s unique, patented Bis-Aminopropyl Diglycol Dimaleate.
By acting on a molecular level, it dramatically improves hair strength while protecting from within and providing immediate results for all hair types and textures. In other words, penetrating all the way to the cortex, the technology not only provides sensory application but also security in the result.
Which means that after all the bonds are fully engaged and aligned the payoff is healthy, beautiful hair that is also shiny and manageable.
The products Olaplex: professional results
Initially the brand was for professional use only, but due to its high popularity it was soon \" compelled \" to adapt its packaging for flawless looks at home. This ensures that between visits to the salon, hair is not only perfectly repaired, but also kept in excellent condition. Visibly improving its quality.
In addition to being vegan, all formulas have never been tested on animals. Non-toxic and free of Parabens, Phosphates, Phthalates and Sulfates.
This light-textured intensive hair repair care is the first and most important step in the entire range. The product glides on effortlessly and is quickly absorbed by the hair. As a result, free of any residue or additional weight, the hair looks stronger, healthier and more manageable. All this thanks to the high concentration of the brand\'s technology.
♥ No. 3 Hair Perfector 100ml
Immediately after the application of No. 0, the application of Olaplex No. 3 should be continued (in order to enhance results). Together, this is the ideal pairing to instantly see hair that looks refreshed. Shinier as well as with greater motion. It is worth noting that the product contains high concentrations of the brand\'s patent. It acts at the molecular level to regenerate dry and damaged hair resulting from chemical and/or thermal treatments. Use once a week between visits to the hairdresser.
♥ Nº 4 Bond Maintenance Shampoo 250 ml
A shampoo for daily use with a gentle cleansing formula that not only effectively and gently cleanses hair, but also increases its resilience. While repairing damage and strengthening the hair structure. Thus rich in beneficial properties it restores optimum moisture levels to the hair, which as a result becomes durably soft, shiny and loose. In addition it is an excellent ally for colored, bleached or balayaged hair as it preserves the quality and longevity of the color to prevent fading and oxidation.
♥ Nº5 Bond Maintenance Conditioner 250 ml
This conditioner is perfect to combine with Olaplex No. 4. Ideal for people with damaged or colored hair, thanks to its color-preserving properties it ensures an intense nourishing action. It increases the hair\'s shine and softness and as a result the hair becomes more manageable as well as deeply repaired.
♥ Nº6 Bond Smoother 100 ml
This professional-quality, cream-textured leave-in is ideal for at-home hair care as it helps to reverse the damage caused by coloring and styling. In other words, it rebuilds the broken disulfide bonds. In this way, without rinsing, it is highly nourishing and therefore performs a powerful anti-frizz action for sublimated looking hair. At the same time it provides intense moisture to dry ends and protects the hair shafts.
♥ Nº7 Bonding Oil 30ml
The amazingly protective Bonding Oil offers outstanding thermal protection up to 232°C. While minimizing styling damage and preserving hair health. In short, in addition to providing shine and vibrant color, it improves flexibility, reduces frizz, and keeps rebellious hair under control. Perfectly suited for use on damp or dry hair
♥ Nº8 bond intense 100 ml
Finally, the last care in the Olaplex range is a repair mask that is highly concentrated on the brand\'s exclusive technology. As such, it not only provides unmistakable shine, but also adds body to the hair. All this, while intensely hydrating and repairing the bonds of damaged hair.
What to Expect
We believe that a picture is worth a thousand words. That is why we show the impact of using Olaplex products on two completely different hair styles. With completely different colors, textures, and cuts, but with equally outstanding results.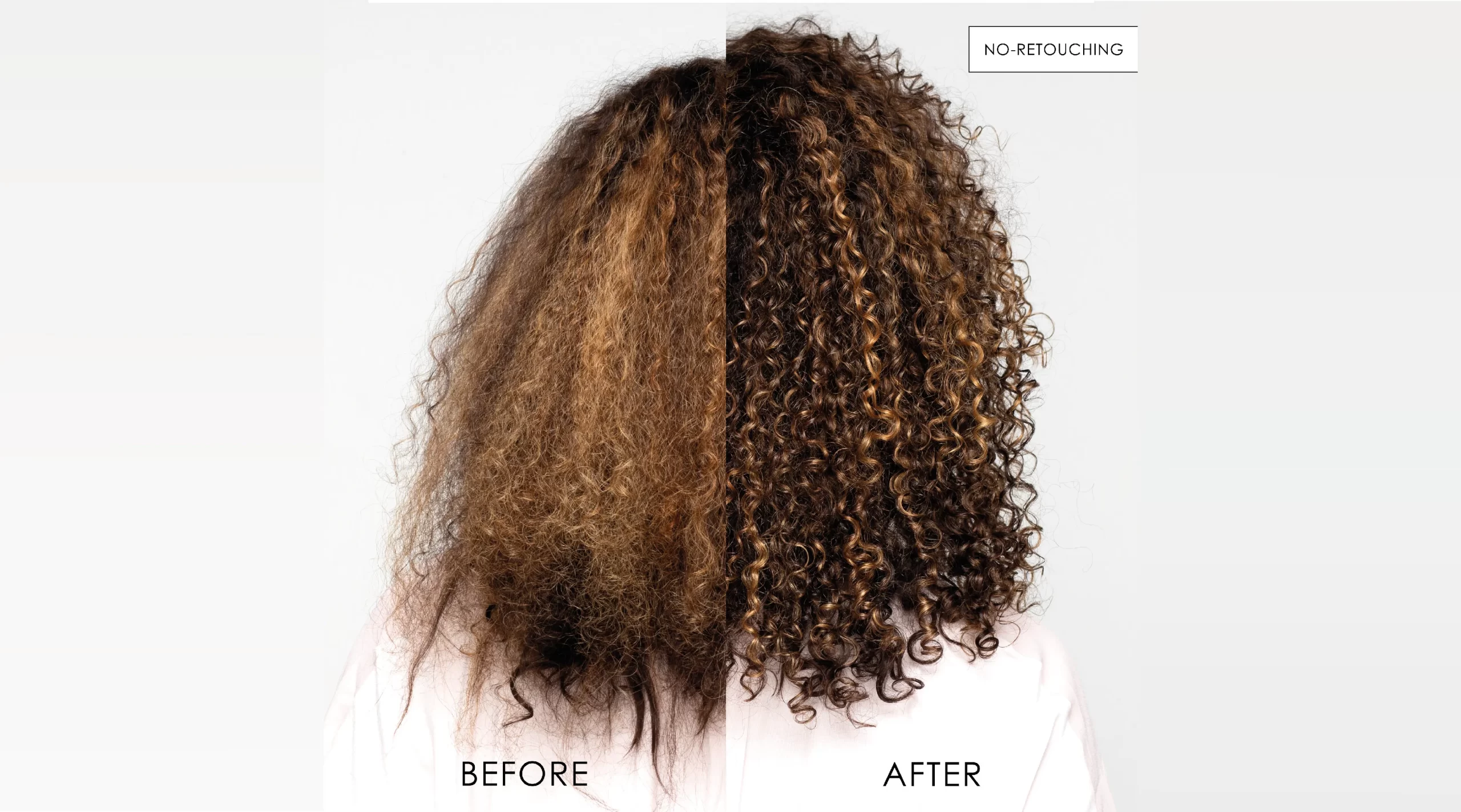 Did you like the article Olaplex: professional results at home? Have you tried some of these products? Leave a comment 😊
Need help getting started on your OLAPLEX hair journey? At Lyskin we have a number of experts on hand who will be happy to tailor a routine Olaplex: professional results to your needs!