Summer is for many the favorite season of the year. Hot and sexy, the long, hot days call for a dip in the sea or pool, as well as a long evening on the terrace. Yet, the season also brings some hair damage, and so for those who are already back from vacation, or else still organizing their suitcase for their summer 2022 destination, we present "Post-summer hair damage repair: the best products ".
Summer vs Hair: ABCs of Hair Damage
There's no denying that after (the already well-deserved) vacation we had to rush to get an appointment at the hairdresser… Whether it's to cut the dry ends or touch up the color. But, have you ever wondered why hair changes so much this season?
Just like our skin is damaged, hair suffers when overexposed to the sun, salt, and chlorine from swimming pool water, among other external aggressors. So, since these are the catalysts of summer fun, without the proper preventive measures, we can favor damage to the hair fiber.
What happens in depth?
It is not the most pleasant statement, but the truth is that all hair that grows on the scalp, and is dead tissue with no ability to self-regenerate. They are made up of hydrogen chains and disulfide bridges – visually resembling a curly (twisted) staircase – as well as keratin and natural oils that are meant to keep the cuticle perfectly anchored to the scalp.
Therefore, when exposed to external aggressions -in this specific case to UV rays- there will be, besides a rupture of the bonds, a decrease in water retention within the hair shaft and a decrease in sebaceous secretion. As a result, the hair becomes dry and dehydrated, as well as more susceptible to falling due to breakage and other external agents (namely salt, chlorine, and pollution).
⇒ Dry and dull hair
Sunlight affects the integrity of the hair cuticle and, as a consequence, may induce protein degradation and melanin oxidation. In other words, it makes hair look devitalized and dull while compromising color intensity and making it more difficult to style.
⇒ Damaged and split ends
Although the main instigator of damaged hair is unprotected sun exposure, unlike the previous one, it stands out for its greater porosity, greater susceptibility to breakage, and also for a decrease in hair elasticity. It is usually accompanied by split ends, faded color, and flaking of the scalp.
⇒ Frizzy hair
Summer is a period when the relative humidity of the air is particularly high. Fragile hair that has a low percentage of natural oils reflects this aggression with a frizzy hair look.
In addition, those with thinner hair fibers can also suffer damage to the scalp, which can become more sensitized or even burned as a result.
How to repair Post-summer hair damage
In case you find yourself with any of the above damage, we have good news! It is possible to give your hair a healthy, radiant look even if it is not capable of self-healing. The key is to use products that have been specially developed for the different needs and types of hair.
In this sense, the post-summer hair recovery care will be presented in the form of shampoo, conditioners, masks, and leave-in. All are rich in gentle, repairing, and nourishing formulas.
The products that really work
♥ Olaplex
Olaplex is composed of a patented technology that, acting at a molecular level, dramatically improves hair strength while protecting and delivering immediate results. In other words, penetrating all the way to the cortex, this technology not only provides sensory application but also safety in the result.
The Olaplex hair care routine consists of 4 fundamental steps.
Firstly, you should apply Olaplex #0, an intensive hair repair care, over the entire length of the hair. Next, you should proceed with the application of Olaplex #3 in order to regenerate dry and damaged hair and instantly see hair that looks rejuvenated. Brighter, as well as more movement.
Then, Olaplex #4 and #5 respectively, the shampoo and conditioner, follow. With gentle formulas, they effectively and gently cleanse the hair, as well as increase its strength. While repairing damage and strengthening the hair structure. In addition, these two cares preserve the quality and longevity of color to prevent fading and oxidation.
Finally, we recommend using olaplex #6. In a cream texture, it is ideal for hair care since it helps reverse the damage, i.e. rebuild the broken disulfide bonds. For even more amazing results, apply in conjunction with Olaplex #9 nourishing protective serum. Rich in antioxidants, it acts as a barrier against pollution and protects hair from breakage and thermal temperatures (up to 230°) while controlling unwanted frizz.
♥ L'oreal Professionnel Metal Detox
The metal detox routine is designed to reduce the risk of hair breakage by 87% while providing long-lasting color with twice the shine.
Ideal for streaked, balayage, or bleached hair, metal detox is the perfect routine to prevent the appearance of unwanted highlights during and after the summer.
This is because wash after wash, the metal particles present in the water will penetrate the hair fibers and compromise the professional results.
In this sense, it is composed of a patented technology enriched with glycosamine, the molecule that tracks and neutralizes the metal inside the fiber.
To use the products, start by wetting your hair. Then, apply the L'oreal Professionnel Metal Detox shampoo evenly along the strands and massage gently for 3 minutes. Immediately after, rinse thoroughly.
To soften the strands, towel dry the hair and apply the L'oreal Professionnel Metal Detox hair mask. Wait 5 minutes before combing and again rinse thoroughly.
♥ Kérastase Soleil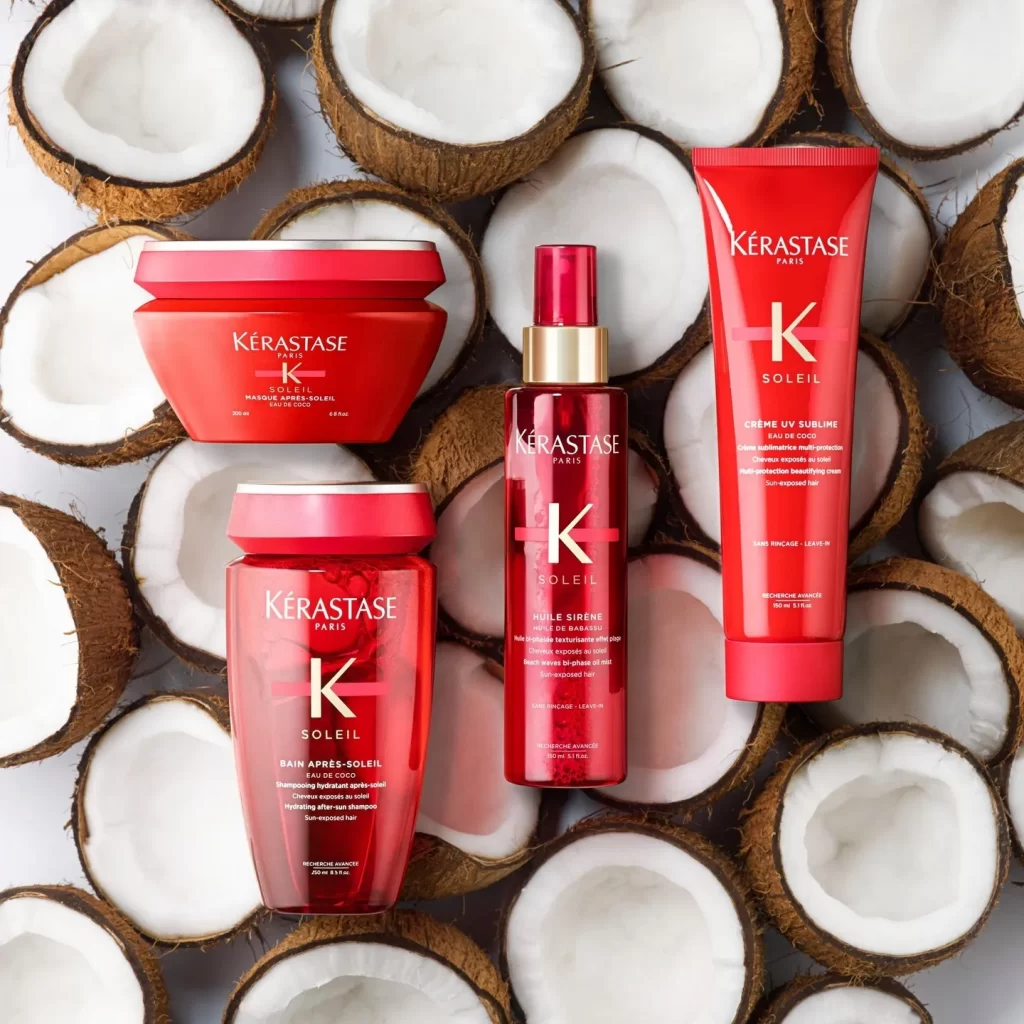 The Kérastase Soleil range is a classic for anyone who wants healthy hair during and after the summer.
With four exceptionally complementary products it offers a routine for protecting, strengthening, nourishing, as well as for styling, and illuminating the hair. Thus, it features a unique combination of:
Coconut Water. With an excellent moisturizing action, coconut water is able to penetrate deeply into the hair in order to retain ideal moisture levels in the hair fiber.
Vitamin E. Recognized for its antioxidant capabilities, Vitamin E helps maintain hydration while reducing the risk of breakage and protecting hair from external damage.
UV filter. Finally, thanks to UV filters, the sun's rays are repelled to minimize their harmful effects on the hair fiber.
♥ Redken Acid Bonding Concentrate
Acid Bonding Concentrate is Redken's range with the highest concentration of active ingredients. It is enriched by a bonding complex and acid pH that not only moisturizes the strands but also repairs and protects the hair offering a total transformation. Thus, it can be used daily by all types of dry and damaged hair who wish to improve hair quality.
To get the full benefits of this exceptional program you should apply the Acid Bonding concentrate shampoo to wet hair and massage for 3 minutes for maximum results.
Then remove the shampoo and with dry hair apply the Redken acidic bonding concentrate conditioner. Let the product act on the hair for 3 minutes as well. Afterward, rinse your hair again until the product is completely removed.
Finally, towel dry your hair very well and apply the Redken acidic bonding concentrate leave-in. Apply it from the middle of the hair to the ends, in continuous movements to facilitate its absorption. Leave it on for 1 minute.
As a result, you will have shinier and healthier hair, well nourished and with visibly nicer ends.
♥ Kérastase Blond Absolu
For those who specifically want to repair post-summer hair damage on their blonde, lightened, or bleached hair, the most suitable solution is Kérastase Blond Absolu. A very complete care range for those looking to restore luminosity and softness to their hair, as well as neutralize unwanted reflections.
Blond Asolut consists of 9 products. However, to offer the ultimate experience in sensitized blond hair we recommend the use of:
Bain Cicaextreme Cream Shampoo for more hydrated hair from growth to ends. With a gentle formula, it restores and protects blonde hair, making the hair fiber stronger and healthier.
Purple mask for blonde hair. Although only recommended once a week, this product penetrates the fiber to remove unwanted yellowish tones, while moisturizing and repairing the hair in depth.
Huile cicaextreme leave-in oil in addition to thermal protection up to 230°, allows you to instantly seal the cuticles while drastically reducing split ends. It nourishes the fiber from the inside allowing hair to become 91% stronger and 6x shinier.
Day after day, you will notice your hair is sensitized, more hydrated, protected against oxidation, and instantly free of yellowish tones.
♥ Redken color extend brownlights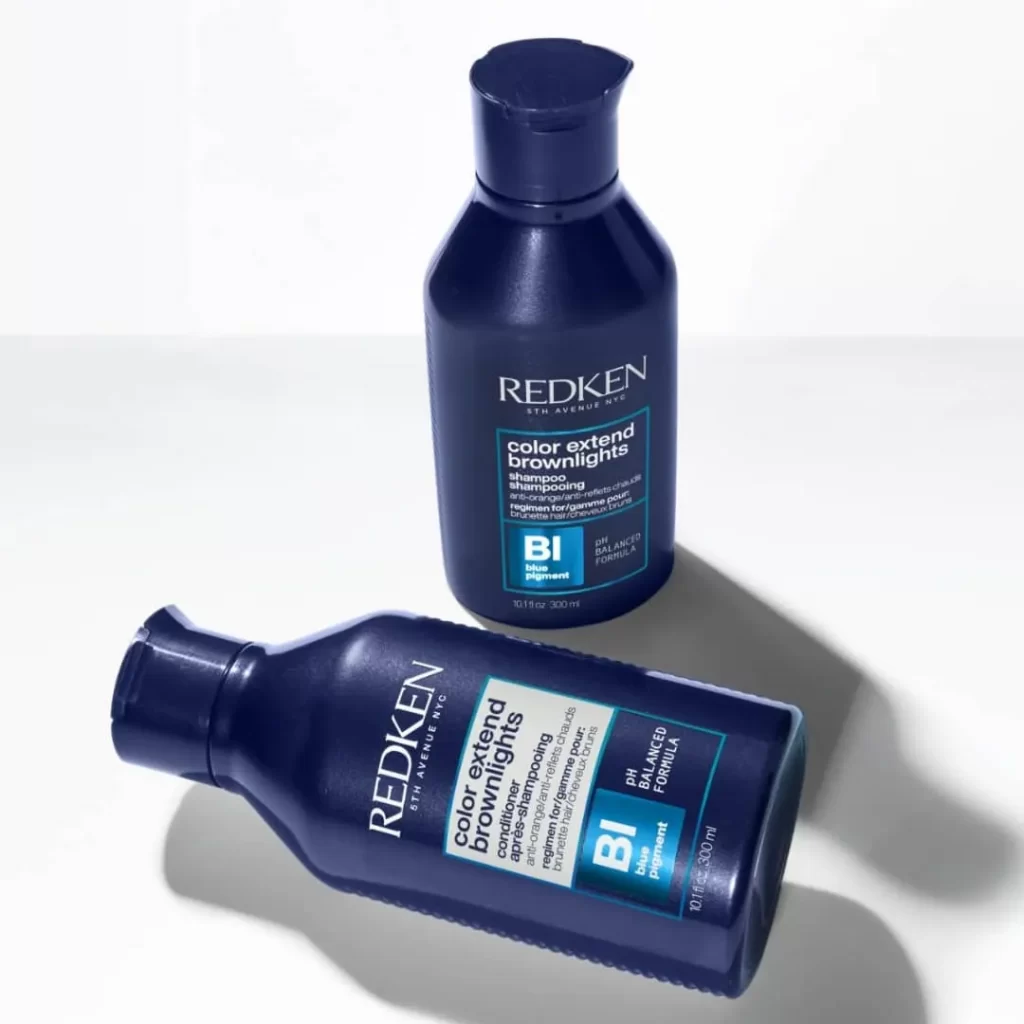 The color extend brownlights range offers maximum protection for color-treated hair while strengthening the strands. It is enriched with blue pigments that not only help to immediately neutralize unwanted orange tones but also strengthen the structure of the hair fiber.
In addition, it contains Plant Protein that will protect while repairing the hair's strength and moisturizing intensely. As a result, elasticity is increased and the hair is deeply conditioned. Thus culminating in a smoothed cuticle with increased shine and manageability.
To use, we recommend first applying the color extend brownlights shampoo while gently massaging. Then, rinse thoroughly. Then use the color extend brownlights conditioner from the range to enhance the results. Leave on for approximately 3 minutes and rinse thoroughly.
Finally, for exceptional color treatment, we recommend you apply Redken one United. A spray that has 25 benefits:
Increases hair elasticity;
Nourishes the hair fiber to increase manageability;
Detangles;
Strengthens the fiber.
Helps to prevent breakage;
Protects the color;
Reduces damage caused by heat;
Prevents split ends;
Seals the hair cuticle and restores balance;
Adds a layer of protection against external aggressions.
Adds shine to hair.
Controls unwanted frizz.
Extra tips for post-summer hair damage repair:
Avoid washing your hair daily.
During the wash, do not perform any rigid movements to avoid the breakage of brittle hair. Therefore, after shampooing your hair you should only massage the scalp gently and not the lengths,
Massage the scalp with your fingertips so as not to irritate the already weakened scalp.
The water temperature should be tepid, since hot water worsens dryness, making the strand even rougher and more brittle.
Prefer to let your hair dry naturally and avoid using heat tools as much as possible.
If it is not possible to set aside hair curlers, the use of heat protection is mandatory.
Wear a hat or cap to protect both your scalp and hair from external aggressors.
To sum up…
If you notice your hair dry and damaged after the summer, you can breathe a sigh of relief because it is possible to repair post-summer hair damage without having to cut it off. You just have to chase the damage with the use of appropriate, gentle products that can restore hair shine, strengthen the fiber, and add a thin layer of extra protection.
Do you have any doubts? At Lyskin we have Beauty Experts who can help you define a hair routine that suits your needs. Contact us 🙂
Shop the story