If you were already a fan of the previous generations (Steampod 2.0 and Steampod 3.0), you won't want to miss the newest L'oreal Professionnel Steampod 4. We've been keeping an eye on its launch to reveal the features that make this a must-have for anyone who loves silky straight or waves worthy of the brightest Hollywood runways.
Steampod 4, champion of straightening
Over the years, its predecessors have conquered a position that no other brand has ever been able to occupy. Since the launch of Steampod 2, L'oreal has gotten us used to faster and less damaging straightening. Without breakage and with a shiny look.
You have to admit that you have also made eyes at the famous Steampod 3.0… Whether in its original version, Karl Lagerfeld's glamorous edition, or the funky Barbie collab, this is an accessory that conquered the hearts (and hair) of famous influencers around the globe.
Despite having a price that is not always budget-friendly (its latest version is available for 399€), we guarantee that, when buying a Steampod, you will get the most out of every penny you invest. Especially if you are a regular customer at the hair salon.
What makes this hair styler so special?
If you don't like to leave the house without immaculate hair, you know that using a hair styler every day can have its consequences (breakage, dry, parched hair with frizz for days, and more). And you also know that the results may be short-lived by the time the first unruly strand sticks out.
Well, Steampod is a unique hair styling tool that provides superior straightening compared to any conventional plate, for longer, without effort, and with (significantly) less damage. In short, by using steam to straighten hair, the Steampod offers hair protection while styling all kinds of unruly hair.
And, believe us when we tell you that the results are unbeatable! It leaves no marks on the hair and the styling is super fast. One or two runs are enough to achieve long-lasting, dramatically straighter, and shinier hair.
Despite all these benefits (which were already enough for any enthusiast of haircare), in a partnership with Rowenta, L'oreal Professionnel launched, in October 2022, what is called "the best plate we can find today" – the new Steampod 4.
Steampod 4 all-in-one styler
The latest all-in-one styler says goodbye to the pink shade (Steampod 3.0 vs Barbie special edition) and returns to its white tones. However, now it has a more ergonomic structure that, as a result, allows you to create even more looks.
In other words, although the Steampod 4 has always been linked to an impeccable silky smooth style, you can use it to create waves, soft curls, and coarse curls. The result is only limited to your imagination.
This is made possible by the new ceramic outer plates which, when heated up, envelop the hair in perfect 100°C steam. This is an innovative format specially tailored to the various needs of L'oreal Professionnel consumers. To sum up, "all in one" stands for looks that are diverse, practical, fast, and above all, long-lasting and safe.
The innovations
A celebration of the unlimited power of steam, the Steampod 4 is truly innovative. It allows you to create different looks every day, perfectly adapted to your personality, style, or situation… 3x faster, 2x straighter, and 95% less damage!
The world's most famous straightening plate innovates not only in its steam technology (which is now more effective) but also in its ability to style different hair textures. Thanks to three different combs (appropriate for the various types of hair), the Steampod 4 transforms the thickest, finest, and most texturized hair. From the roots to the ends, since it is now possible to use it closer to the root (30% closer exactly).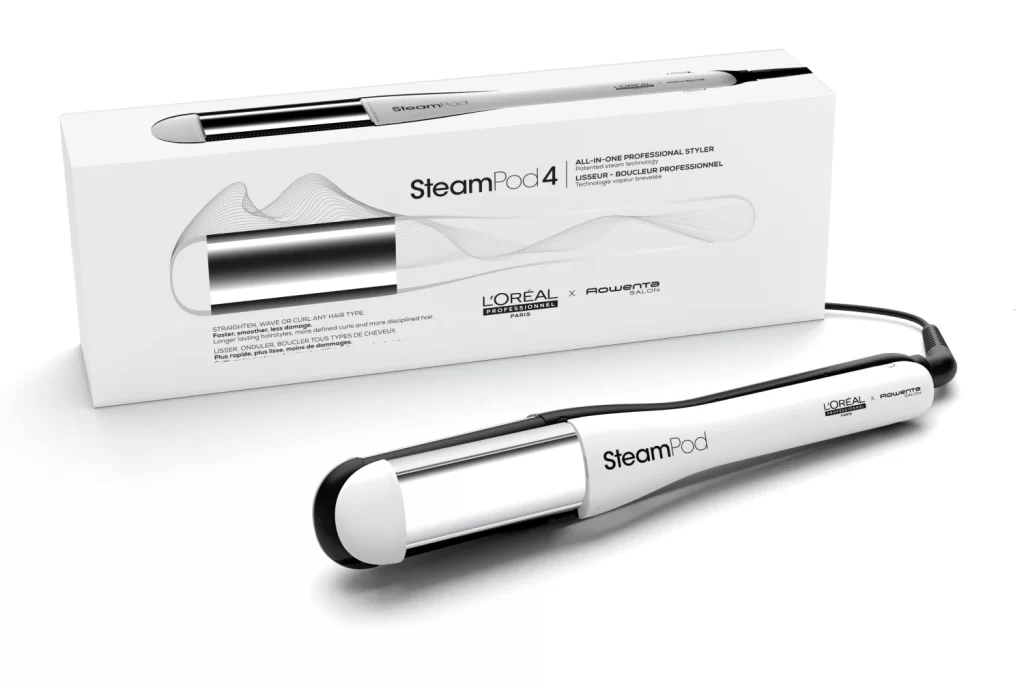 Steampod 4 vs Steampod 3: main differences
Ergonomic design with floating ceramic plates.
Lighter and rounder design for more defined and longer-lasting curls.
Steam board achieves 3x faster and 3x smoother straightening than a normal styler. The new SteamPod guarantees 95% less damage (the Steampod 3.0 guarantees 78%).- Easier root styling (up to 30%) for a perfect look from roots to ends.
New curl feature: mild temperature up to 100ºC for longer curl life.
Better temperature control.
High-resistance plates: aluminum coating resistant to high levels of use (more than 218,750 uses, that is, the equivalent of more than 20 years of use).
Patented steam technology that delivers a continuous flow of 0.8g per minute. This delivers smoother, more disciplined hair.
Set of 3 combs that perfectly adapt to any hair type while ensuring even heat distribution.
Smart temperature control with three distinct settings – 180ºC up to 210ºC.
Rotating cable up to 360º: it has a 2.5m long cable for hassle-free waves and curls.
Automatic switch-off control: after 30 minutes of non-use, the tool switches off for greater safety.
Integrated water tank: with a full tank it is possible to comb up to 201 meters of hair without refilling.
How to select the right temperature on the Loreal Professionnel SteamPod 4?
Thin hair
Normal – 180ºC
Sensitized – 180ºC
Very sensitized – 180ºC
Normal Hair
Normal – 190-200ºC
Sensitized – 180-190ºC
Very sensitized – 180ºC
Thick hair
Normal – 200-210ºC
Sensitized – 190-200ºC
Very sensitized – 180ºC
How to use Steampod 4 at home?
Make sure your hair is 100% dry. Choose the temperature according to your hair type: 180ºC is the ideal temperature for fine hair; 210ºC for thick and frizzy hair. For greater protection of the hair, apply the steam-activated serum.
Perfect Straightening
Divide your hair into sections. The smaller the sections, the more accurate the result. Place a section of hair between the heat plates and make sure the arrows are pointing down while using the SteamPod. After this step, slowly slide the SteamPod in a movement from the root to the tips. For the best possible results, apply the straightening cream for thick hair or the straightening milk for fine hair with damp hair before using SteamPod.
Create waves smoothly
The new 360º swivel cable makes wave creation easier than ever. To do this, comb your hair and divide it into sections. For natural waves, place a thin section of hair inside the SteamPod 4 and wrap it around the machine. Then rotate the SteamPod (with the arrows pointing to the ends of your hair) while slowly sliding it to the ends of your hair. Let the waves cool for a few minutes before brushing or shaking them for a more natural result. For a look at broken waves, remove the comb.
No time to style your hair? Touch-up!
With SteamPod 4 you only need a few minutes to get a professional result. For a quick volume effect, focus on the hair implantation area and the top of the head.
Are you a Steampod fan? The Steampod 4 version is out now at Lyskin.
If you can't live without this hair styler, leave us a comment! Tell us which features you admire and the looks you most like to create.
Shop the story