Retinol is one of the active ingredients that best fight skin aging. However, despite its multiple benefits and numerous recommendations, it still causes doubts about its use.
Therefore, in this blog article, we explain what it is, what it does, and at what age you should start using it. In addition, we reveal the steps you should keep in mind in your retinol routine and which one is best suited for your skin concerns.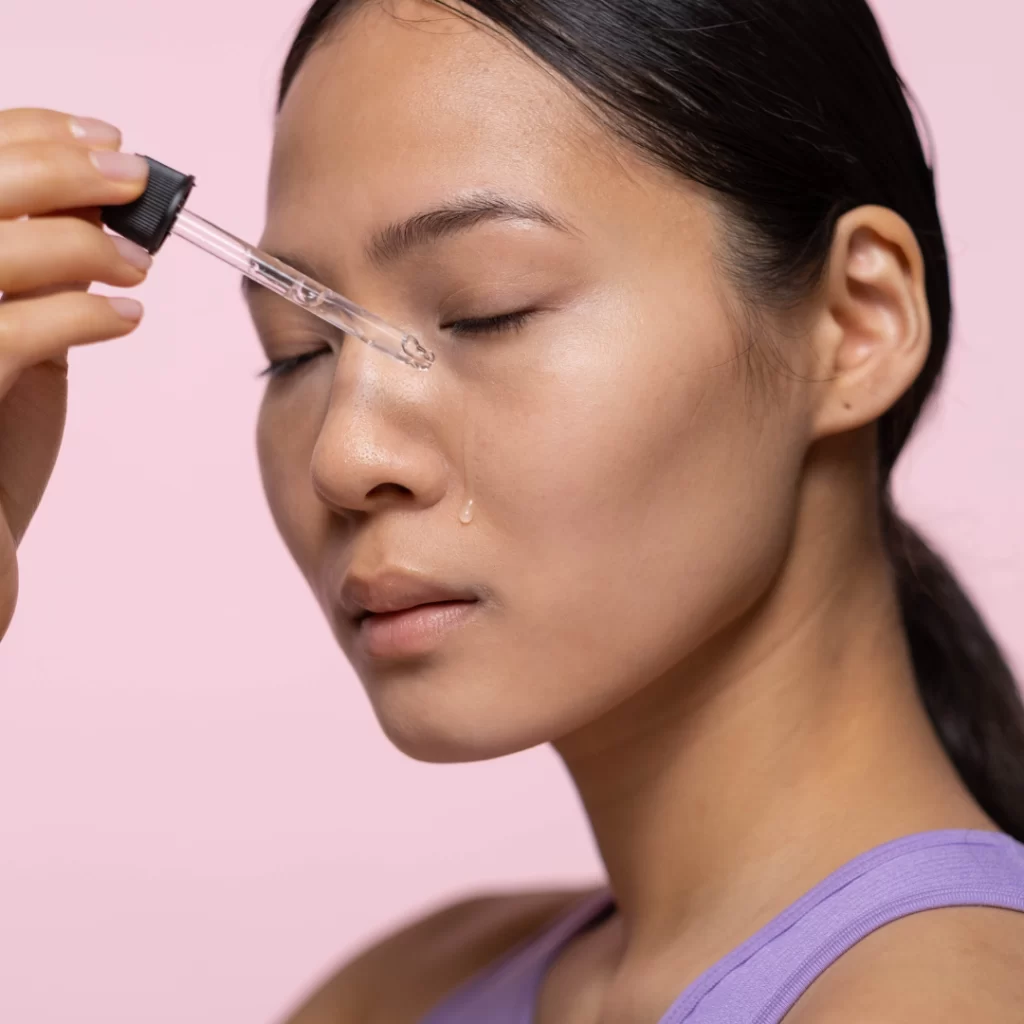 What is retinol?
As a derivative of vitamin A, retinol's main function is to promote the skin's renewal process and thus boost the production of elastin and collagen, and hyaluronic acid. As a result, it not only increases skin firmness but is also capable of attenuating the deepest and most persistent wrinkles, while keeping the skin firm and even.
Main benefits
To be found in several forms (retinol, retinal or retinoic acid), this active can be used by various skin types, presenting the following benefits:
Upon penetrating the skin, retinol will be biochemically transformed into retinal/retinaldehyde and, finally, into retinoic acid. This, by acting on the fibroblasts (the cells responsible for ensuring structure and support to the skin), will stimulate the production of collagen and elastin and, as a consequence, diminish the appearance of wrinkles. Including the deepest and most resistant ones.
When transformed into retinoic acid, it will accelerate the process of renewal of photo-aging skin. In other words, it removes the superficial layer of the skin, gradually removing the hyperpigmented cells and offering a more even complexion as a result.
Similarly, by acting on the cells-which in turn also produce hyaluronic acid (HA) it supports the extracellular matrix responsible for giving the skin a plumped, luminous appearance.
In short, retinol can also regulate the production of oil in the skin and reduce pore dilation. It also softens the appearance of acne scars and prevents the formation of imperfections.
Differences between retinol and bakuchiol
It is impossible to talk about this ingredient without mentioning bakuchiol. With very similar actions, it is common to find people that have never heard of it or even those that don't understand the distinguishing features between the two.
Well, let's explain. While retinol is a derivative of Vitamin A, bakuchiol is a substance of natural origin with retinol-like action. Thus, more delicate, bakuchiol is ideal for the most reactive skins (such as those with eczema or psoriasis) looking for a retinol-like solution that can:
Combat wrinkles and expression lines
Attenuate acne
Smooth skin tone
Increase firmness and elasticity.
Note that it is common for formulations to bring these two active ingredients together.
Differences between Retinol and Tretinoin
Another somewhat frequent debate is between Retinol and Tretinoin. Here the difference is not about the naturalness of the active ingredients, but about their function.
So, Tretinoin is a derivative of vitamin A (more specifically it is retinoic acid) whose main purpose is to treat acne.
How to introduce retinol in 4 steps?
When selecting care with retinoids, know that this active is indicated for all skin types and, also, for anti-aging or prevention routines.
However, to take advantage of its benefits, it is necessary to follow a number of guidelines to ensure maximum tolerance and safety.
Start by introducing small amounts of Retinol (ideally 0.1%). In case this is the first time using this ingredient, you may experience a slight sensation of irritation. This happens because the skin is not "retinized" (the process by which the skin gets used to Retinol).
Apply the cream with Retinol at night. The time to apply it is in the evening and never in the morning! During the first weeks, we recommend that you start by applying it on alternate nights (every other day). Then start increasing the application until you can apply every day at night. It is crucial to adapt the frequency of application according to the tolerance of your skin.
Avoid starting the treatment in the hottest seasons! Since this active can make your skin more sensitive to the sun's rays, it is important to safeguard your complexion from this external aggression. In that sense, it is also mandatory to use high sun protection to prevent photoaging. Prefer care with SPF50 + and reapply every 2 hours.
To finish, don't forget to apply a moisturizing cream. The moisturizing cream can be applied before or after the Retinol cream to minimize irritation as well as keep the skin properly hydrated.
Can I use retinol on my eyes?
In short, yes!
The skin around the eyes is thinner and more sensitive than the rest of the face. With a reduced hydrolipidic film, it is more vulnerable to various aggressors and is therefore one of the first areas where the signs of aging become clear.
In this sense, the use of retinol becomes a very interesting way to fight flaccidity in the eyelid area, increase firmness, and minimize wrinkles.
To use it safely on the eye contour area, we recommend that you choose products developed for this purpose or formulations that allow it.
Here are some product suggestions:
At what age should I start using the active ingredient?
As mentioned above, this active ingredient is an excellent ally not only in the treatment but also in the prevention of aging.
Therefore, it can be used as soon as it is a concern. Around the age of 30, since there is a decrease in elastin and collagen production, is a good age to start using retinol.
What active ingredients can I combine it with? Do I need Vitamin C? Is it necessary to moisturize after its use?
There are a number of active ingredients that, when combined with retinol, will not only support its action but also enhance its anti-aging effects.
When applying retinol at night, combine it with a moisturizing cream composed of, for example, hyaluronic acid.
To minimize irritation/sensitization on the skin, as well as prevent dryness, it is essential that the combined products are free of elements that may interfere with its action ( such as glycolic acid, and AHA's, among others…).
The next morning, it is important that you apply a serum/cream with antioxidant capabilities to protect your face and neck from sun exposure. In other words, you can combine it with products that contain vitamin C or ferulic acid, finishing off the daytime routine with an SPF50+ sunscreen.
In summary…
Retinol is an active ingredient with excellent anti-aging capabilities suitable for all skin types. Including the sensitive ones.
However, please be aware that it may require some time to get used to. It is normal, for the first few days, to experience some redness, warmth, or flaking.
In addition, suitable for the face, eye contour, and neck, to enhance its capabilities you should combine it with antioxidant and protective ingredients. In other words, the use of sunscreen during the day is a must.
The result is skin that looks rejuvenated, smoother, and more elastic.
Shop the story…